Top 10 Best Portable Solar Charger
September 10, 2020
If you buy something through a link on this page, we may earn a small commission. Affiliate Disclosure
Does this happen to you always – the moment you need your phone the most, let it be for GPS use or for making an emergency call while you are out and suddenly the phone's battery drains out? The worse that can happen during this is you don't even have access to any other source of power that can be used to charge the battery of your phone.
Apart from electricity, what is the next mode of power that can help you out in such a situation? Yes, you are right. It's solar energy. Since the sun is always on, you can use it to charge the batteries of your phone whenever you are travelling or you are on a trek.
Do portable solar chargers really work?
You must be wondering that can a portable charger with a tiny solar panel can indeed be used to charge your phone? If yes, then you will no longer have to worry because they are designed in such a way that they are very sufficient to charge your smartphones.
To help you select the best portable chargers for your phone, we have rounded up 10 best options that can help you charge your electronic device. Let's take a look!
10 Best Portable Solar Chargers
1. Nekteck 21W Solar Charger
The Nekteck solar charger is considered as one of the fantastic and highly efficient chargers by travelers. People love it because of its portable and compact design. It has two USB ports that can help you charge two devices at one go. The charger has special built-in IC chips that identify the appropriate charging speed (2A or 3A) that the device needs and hence helps in improving the battery life.
Let's check some other features of this device:
Pros:
It is a lightweight device and weighs only 18 ounces.
It has a foldable design.
The device is very compact.
The design is very straightforward and doesn't involve any complications.
It is affordable.
The design is shockproof and waterproof.
It is completely rain-resistant. In short, it has a rugged design.
Cons:
It compromises a bit with speed and thus, users complain that it charges the devices slowly when compared to other chargers.
It has focused more on general users than hikers or campers.
The screen of the device is a bit susceptible to scuffing.
2. BigBlue 5V 28W Solar Charger with Digital Ammeter
Forget about low battery levels or your smartphone with the BigBlue 5V Solar Charger. It is a small and lightweight, portable charger which can easily fit into any camping bag or backpack. It has three USB ports and thus, you can charge more than one device at a time. To protect the ports from water or dust, they are covered by a rubber cover and a cloth flap. It is compatible with both iOS and Android devices. It is completely weather resistant.
Let's check out some pros and cons of this device.
Pros:
It is a portable and lightweight charger.
It is versatile and durable.
It has three USB ports and thus, you can charge three devices at a time.
It has waterproof port protectors.
It has a built-in ammeter.
It is easy to carry.
It is made up of the special PET Polymer surface. This protects the surface and panel from fog or rain.
The product comes with a warranty period of 24 months and has a great customer support team.
Cons:
The device keeps showing a high-temperature warning.
It gets charged slowly.
3. Instapark 10-Watt Solar Panel Portable Solar Charger with Dual USB Ports for iPhone, iPad & all other USB Compatible Devices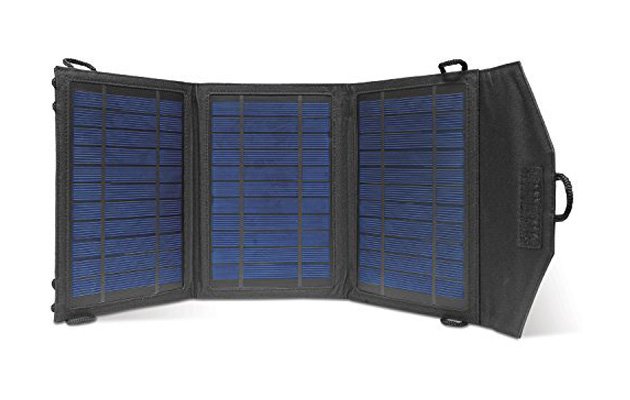 The Instapark Portable Charger is a rugged and waterproof charger. It is a great product and offers very good functionalities for its price. It is designed in such a way that the campers or hikers can attach it to their backpacks or camps with the help of the fastenings that are attached to it. It has two USB ports but it is recommended to use only one port at a time as the density of the charger is a bit low. If you connect the charger to two devices, the charging speed automatically becomes slow.
Let's check out some features of this device:
Pros:
It is a portable device and.
It is easy to fold and pack.
It is waterproof.
It has protective pockets for charging devices.
It is very light in weight.
It stands up to heat pretty well.
It comes at an affordable price.
It has two USB ports.
Cons:
The fastening hoops are made up of nylon which is not very rugged.
If you are charging multiple devices, the speed becomes low.
The wattage scope is low.
It doesn't have a power bank or a power reservoir.
4. X-DRAGON Solar Charger, 14W SunPower Solar Panel with SolarIQ Technology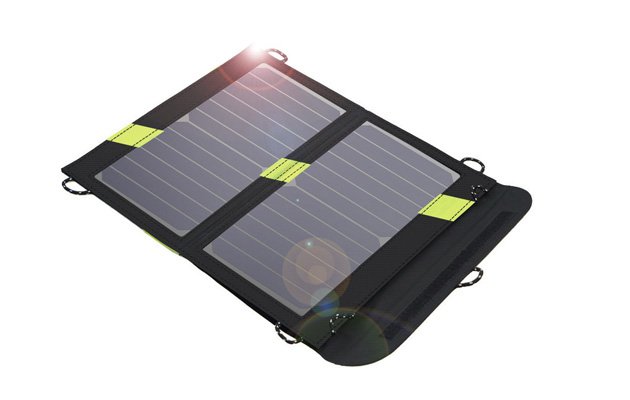 The X-Dragon Solar charger is a super-sized charger with a 40W solar panel. It offers a power of 2.8A which is huge for solar chargers. Forget about charging, with the help of this device; you can recharge your smartphone or tablet. It has a 5V/2A charging port which can be used to charge even mini laptops. The charger is made up of special SolarIQ technology which helps in achieving the appropriate amount of voltage and current and thus, deliver maximum power. It is the best combination of power and portability.
Let's check out some amazing features of this product.
Pros:
It offers dual-USB power ports.
The efficiency of this charger is great.
It is water-resistant.
It is made up of exclusive SolarIQ Technology.
It has a slim design and is foldable. Thus, it is easy to carry.
It has a 10-in-1 connector. This helps in charging any type of device.
It provides maximum power that a charger can provide.
It gets charged very quickly.
Cons:
It has only one port for charging.
It lacks port protectors.
Since the product is so good, it is mostly out of stock.
It is a bit costly.
5. Solar Charger 25000mAh, FEELLE Portable Solar Power Bank Dual USB Ports Waterproof External Battery with LED Flashlight for Most Smartphones, Tablets, Kindle
The FEELLE Solar charger is a dual USB port charger which offers a huge capacity of power. It has a built-in Li-Polymer battery with 25000mAh. This power is good enough to charge a phone for 8-10 times. It has a foldable design making it easier to pack and carry. It has four solar panels which help in absorbing more sunlight. It has dual smart USB ports which are capable enough to charge two devices simultaneously at a good speed. It is a perfect charger for travellers. The device is equipped with special IC chips which prevent the devices from overheating, over-discharging, and short-circuits.
Let's check out some features of this product.
Pros:
It offers a power voltage of 5W and a charging speed of 1A.
You can charge the phone simultaneously when the charger is getting charged by the sunlight.
It offers multi-protection mechanism.
The USB ports are protected by silicone cover.
The device is waterproof and shockproof.
It offers a 30-day money-back guarantee and a warranty of 18 months.
It has four large solar panels.
It has special SOS flashlight which makes it perfect for outdoor enthusiasts.
Cons:
Users complain that the device works very efficiently initially, but after the usage of 2-3 months, the battery loses its efficiency.
6. Solar Power Bank, Qi Portable Charger 10,000mAh External Battery Pack Type C Input Port Dual Flashlight, Compass
The solar charger by BLAVOR is a 10,000mAh power bank which is perfect for any outdoor outing. The best part about this power charger is you can charge it using sunlight as well as any power outlet like a type C port or a micro USB port. It can be considered as a great emergency backup solution instead of the main power source. The charger is made up of ABS fireproof materials and a powerful lithium polymer battery.
Let's check out some feature of this device.
Pros:
The charger is made up of sturdy material and is durable.
It is compact in size and is easy to carry around.
It offers a 100% money-back guarantee.
It has a USB port and a Type C port.
It comes with two flashlights and a compass kit.
It is light in weight.
The charger is shockproof and splash proof.
It is a Qi Certified charger.
Cons:
The flashlight is not that great.
Type C charger is an input port and not an output port.
It takes a lot of time to get charged even when kept under direct sunlight.
7. Solar Charger 24000mAh ADDTOP Waterproof Power Bank Dual USB 2.1A Output Portable Phone Battery Pack for All Smartphones, Tablets and More Outdoor Camping
The ADDTOP solar charger is a waterproof power bank which offers a high capacity battery with a 24000mAh power. The power is enough to charge your smartphones 7-8 times and an iPad for around 2-3 times. You can charge your device simultaneously while the charger is being charged under the sunlight. The solar panels are completely waterproof, and thus, you do not have to worry about damage. The charger is 88.8wh. Thus, you can safely carry it along with you on the plane.
Let's check out some features of this product.
Pros:
It has dual USB ports allowing you to charge two devices at a time.
The solar panels are waterproof.
It is portable and easy to carry along.
It offers fast charging effect and hardly takes an hour to charge a smartphone fully.
It is one of the best power backups for mobile phones and tablets.
It has three solar panels.
It stores massive power in it.
The company offers an 18-month manufacturer's warranty.
The kit includes a user manual along with a micro USB cable.
It has built-in LED emergency lights.
Cons:
8. SUAOKI Solar Charger 60W Portable Solar Panel Foldable High-Efficiency 5V USB 18V DC Dual Output Charger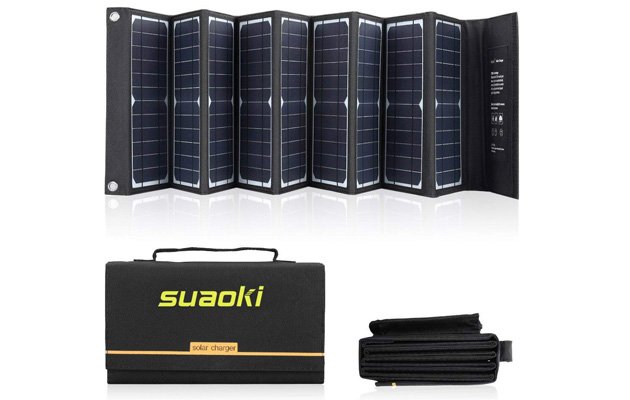 The SUAOKI solar charger has 60W solar panels which are foldable. The panel looks stylish and is splash-proof. It is compact in size and can be stored and carried easily. Next time, whenever your smartphone or laptop is running out of battery, your power source is just a fold away. All you have to do is unfold the panel and charge your device. It is a great power bank for your smartphones, laptops, Radio Routers, and any other device which takes the power of 5-18W. It has a special and intelligent chip which helps in making the solar panel work faster and efficiently. In short, it is a perfect device for all your outdoor activities.
Let's check out some feature of this product.
Pros:
The solar charger can generate a power up to 60W.
It offers 5V USB port with an 18V DC dual output.
Its dual output port allows you to charge your smartphone and laptop simultaneously.
It has a 10-in-1 connector that helps in delivering the power directly from the charger to the laptop without using any adapter.
The intelligent chip adjusts the current automatically to offer the fastest charging to the devices attached to it.
The solar cells are made up of single-crystal silicon which increases the efficiency by 20%.
You can store the solar energy by pairing it with SUAOKI S270.
The solar panel is durable and splash-proof.
Cons:
The power button is not of great quality.
Users complain of a strange odour coming from the ventilation section.
9. Solar Phone Charger 10.000mAh Power Bank-Portable Smartphone & iPhone Battery + Emergency Flashlight
The iBose solar charger offers an inclusive power kit which can be used to charge any device at a great speed. It is designed primarily for hikers as it is a great combination of power and compact design. The kit includes a power bank which can be removed when not in use. It has built-in LED flashlights along with automated SOS functionality. It is a waterproof charger which charges the devices quickly and also gets charged quickly.
Let's check out some features of this device.
Pros:
The device is very portable.
It offers high-power and has multiple ports for charging.
It includes a high-quality power bank which is detachable.
It is very compact.
It has built-in LED flashlights which includes SOS signals.
The entire kit is very handy to use and carry along.
Cons:
The device becomes a little slow if you are charging multiple devices at a time.
The brand doesn't mention the wattage.
There are LED flashlights, but while you use them continuously, it might deplete the bank a bit faster.
It doesn't have a C Type port.
The solar panel sometimes turns fragile when they become too hot.
10. RAVPower Solar Charger 24W Solar Panel with 3 USB Ports Waterproof Foldable Camping Travel Charger
RAVPower Solar Charger is a compact charger with a standard and rugged design. It is a waterproof device with a micro USB port and 2 USB ports. The charger is very small in size and looks like a smartphone. It can provide a runtime of 11 hours and offers a pretty solid power to keep your smartphones charged during emergencies. It has special built-in LED flashlights along with automated SOS functionality. The charger has dense mono-SI panel design which helps in fast-charging of the device.
Let's check out the features of this product.
Pros:
The device is very compact.
It can charge up to 3 devices at a time.
The built-in power bank offers long life.
IT has a rugged design and can withstand any type of abuse.
It is outlet-chargeable.
It is a reliable charger.
Cons:
The flashlight is not that great and bright.
While charging multiple devices, it compromises with the speed.
The solar panel has a smaller surface area.
Do solar panels need the sun or just light?
Solar panels use energy from daylight rather than using only sunlight in order to generate electricity. Heat does not affect the production of electricity. Thus, it needs light to produce electricity.
During cloudy or rainy weather, the device doesn't get charged as an insufficient amount of light passes through the panel. Thus, sunlight is important to charge a solar charger, but the more important requirement is the daylight.
Conclusion:
The solar power is considered as a green and renewable source of energy. Any device that supports solar energy helps in keeping the environment safe and green and solar charger is an addition to these eco-friendly devices.
There are many solar chargers available, but most of them do not meet the expectations. You must always look for a device which is portable and which helps you provide fast charging mechanism. We hope these reviews help you find the best one.
Related Articles